Discover all our tourist information from Chenillé-Changé. Thanks to the rent of a licence free houseboat you can stroll on the canal of the Mayenne. Explore big cities without forgetting the castle of Angers.
Chenillé-Changé is a village in the Haut Anjou Segréen, bordering the river Mayenne. This little jewel is situated in an environment where quie, greenery and joy of life are omnipresent. You will find a working water mill included in the inventory of historical monuments, its twelfth century church. The village was awarded the national 1st prize for flowered towns and villages "4 fleurs" and "Village de Charme".
To know the tourist information from Chenillé-Changé, you can navigate in the map by clicking the various cities of the menu or to navigate directly in the map with your mouse.
Légende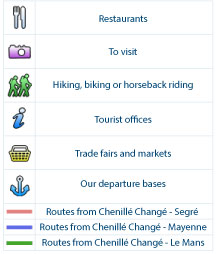 To See :
The water mill still operating
The twelfth century Church,
The Castle,
The medicinal garden,
The slopes of the Virgin (panoramic view of the Mayenne, the village of Chenillé Changé and its lock)
Unusual Caravans and pool at le Moulin,
The Domain des Rues is a key player in the conservation of animal breeds such as Maine Anjou Cattle. You can discover the history of a nineteenth century Haut Anjou farm.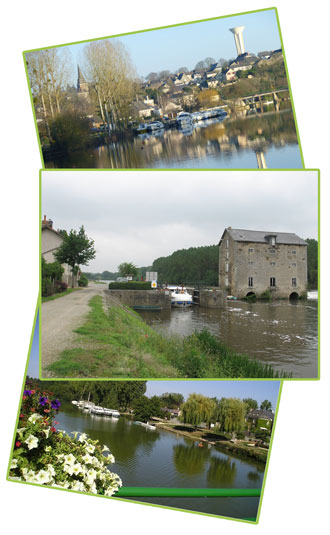 To Taste :
White buttered zandar (fish), the Pommeau (local aperitif), cider, crepes, rillettes du Mans.
To Know :
There is 85km of restored towpaths to the town of Mayenne which provide you with many appealing walks and bike rides.
Favourite :
The locks: these are one of the main attraction of the river Mayenne. They all have a unique charm and characteristic: the grocery lock, the restaurant lock, the photo exposition lock and even… the bakery lock with has an explaination on how bread was produced in the old days. And of course the local taverns which serve scrumptious, well-priced meals produced from the local produce!
Suggestions of routes from Chenillé-Changé :
Week-end
Chenillé-Changé – Le Lion d'Angers – Segré – Chenillé-Changé : 70 km – 14 locks – 12 hours
Chenillé-Changé – Entrammes – Chenillé-Changé : 80 km – 24 locks – 13 hours
Mini week
Chenillé-Changé – Entrammes – Le Lion d'Angers – Segré – Chenillé-Changé : 150 km – 38 locks – 22 hours
Chenillé-Changé – Le Lion d'Angers – Segré – Chenillé-Changé – Chateau Gontier – Chenillé-Changé : 150 km – 22 locks – 17 hours
Chenillé-Changé – Le Lion d'Angers – Montreuil Juigné – Angers – Cantenay Epinard – Lion D'Angers – Chenillé-Changé : 91 km – 16 locks – 16 hours
One week
Chenillé-Changé – Angers – Solesmes – Chenillé-Changé : 198 km – 30 locks – 34 hours
Chenillé-Changé – Laval – Angers – Le Lion d'Angers – Segré – Chenillé-Changé : 170 km – 48 locks – 31 hours
One – way
Chenillé-Changé – Le Mans : 168 km – 28 écluses – 28 heures
Two weeks
Chenillé-Changé – Mayenne – Écouflant – Malicorne – Chenillé-Changé : 402 km – 112 locks – 68 hours
Three weeks or more
Chenillé-Changé – Mayenne – Angers – Le Mans – Chenillé-Changé : 504 km – 130 locks – 97 hours