The various rivers, Mayenne, Sarthe and Oudon, offer more than 300 km of navigation. Here you have the opportunity to cruise through wooded landscapes and explore towns such as Laval, with its castle that towers above the river, or Angers, the town of the powerful King René from the 15th century. You can also visit Le Mans, known for car racing, Solesmes and its Beddictine Abbey, or Sablé, where you can savour its delicious shortbread cookies.
The river Sarthe joins the river Mayenne near Angers. A visit to the Abbey of Solemes is a must, as is Malicorne-sur-Sarthe, which is known for its china, and no one can miss Le Mans, of course.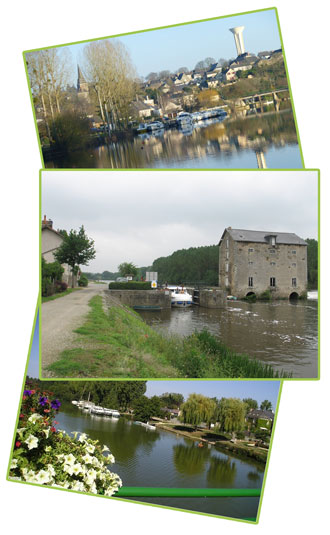 To Taste :
White buttered zandar (fish), the Pommeau (local aperitif), cider, crepes, rillettes du Mans.
One Week :
LA SUZE-SUR-SARTHE / MALICORNE / SOLESMES / SABLE-SUR-SARTHE / MORANNES / CHATEAUNEUF-SUR-SARTHE and LA SUZE-SUR-SARTHE 204 Km 38 locks 32 hours
One Week one way :
LA SUZE-SUR-SARTHE / MALICORNE / SOLESMES / SABLE-SUR-SARTHE / MORANNES / CHATEAUNEUF-SUR-SARTHE / ANGERS / GREZ-NEUVILLE / CHENILLE-CHANGE or DAON 163 Km 26 locks 25 hours
Two weeks:
LA SUZE-SUR-SARTHE / MALICORNE / SOLESMES / SABLE-SUR-SARTHE / MORANNES / CHATEAUNEUF-SUR-SARTHE / ANGERS / GREZ-NEUVILLE / CHENILLE-CHANGE and LA-SUZE-SUR-SARTHE 326 Km 52 locks 50 hours